Professional Mold Damage Restoration Is Best in Medford
8/25/2022 (Permalink)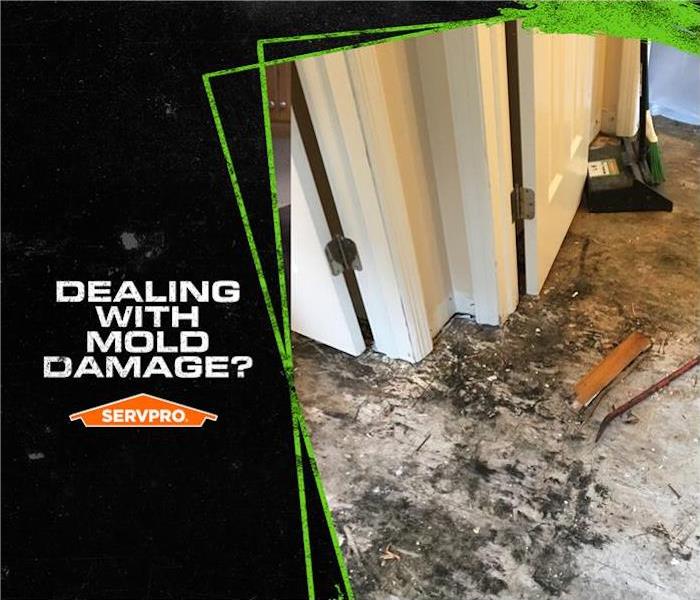 Medford homeowners trust SERVPRO's IICRC-certified crews for mold remediation. "Like it never even happened."
Call SERVPRO for Medford Mold Remediation and Cleanup Assistance
Mold is often something that will not be on your mind until you see it or start to smell musty odors. Whether you have a black mold issue within your home or commercial property, it can be unsettling and leave you wondering how to address it. While it might be tempting to grab some cleaner and a rag to wipe it away, DIY methods are never recommended. Instead, hiring professional mold remediation technicians will ensure everything gets done safely and effectively. This is where our SERVPRO team can get the job done right the first time.
Many people confuse mold removal and mold damage remediation in Medford. It is essential to realize that mold removal is not possible, so any company or product claiming to remove mold is a false statement.
Facts to Know about Mold and Mildew
There are many common misconceptions about mold, what it is, and how it develops. We not only come to your Medford property to help remediate the mold issue, but we are also happy to educate our customers on it:
Mold is a living microbe everywhere around us, including our interiors, the outdoors, the air we breathe, etc.
Mildew is a fungal variety that leaves behind a powdery residue.
To thrive and colonize, mold needs a host material, organic food, and moisture.
Mold can create stains in various colors, including yellow, black, pink, purple, or green.
Not only does mold develop on surfaces, but sometimes within paints, dust, under wallpaper and carpeting, and within your upholstery, fabrics, and insulation.
What can I do until SERVPRO arrives to help with my mold remediation problem?
It is important to know that mold can develop quickly, sometimes less than 48 hours after a water damage incident or increasing moisture. You must keep the following in mind:
All pets and people within your property must stay out of areas suspected to have mold growth.
Shut off any fans and turn off your HVAC system to keep spores from traveling throughout your home or business.
Never try to touch or disturb the mold, including blowing air across surfaces with possible mold or spraying cleaning on or near it.
Why SERVPRO for Handling Mold Remediation?
Mold development can be pesky, and it calls for specialized techniques and careful methods to clean it properly. Our technicians always wear personal protective equipment like coveralls, boots, gloves, goggles, and respirators for safety. Our processes are the best way for you to have peace of mind that everything will get restored to pre-mold condition "Like it never even happened."
Our team puts containment measures into place to halt the spread of microscopic mold spores.
Specialized containment may include negative air chambers that help isolate the area in question using barriers and negative air pressure.
Advanced equipment helps to capture spores from the air with filtration. These air scrubbers with onboard HEPA filters and vacuums get used in tandem to keep spores from spreading as the crew works.
Contents cleaning and disinfection are critical with mold remediation and restorations
The processes our IICRC-certified technicians use depend on the level of mold growth and surfaces where it is present. We treat substates with antimicrobials and antifungals to keep new colonies from sprouting up. We also carefully address furnishings, clothing, toys, and other belongings on a case-by-case basis to determine salvageability and the best course to take for thorough cleaning. According to local guidelines, anything we cannot salvage will get logged and disposed of.
Do you need help with mold damage? Request us to your home or business for reliable results! You can reach SERVPRO of Medford/Everett 24/7 by calling (781) 395-4444.