Don't Wait: Check the Date! Replace Smoke Alarms Every 10 Years!
9/27/2016 (Permalink)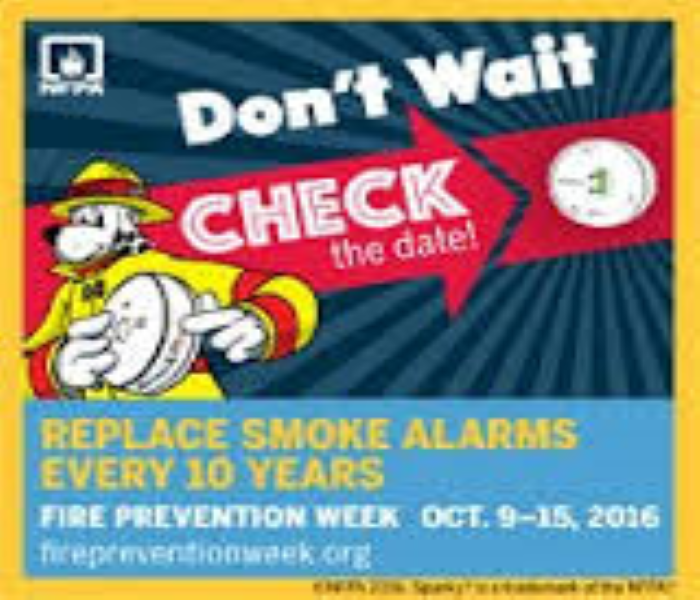 You replace your cell phone, your lightbulbs – even your toothbrush. But when was the last time you replaced – or thought about replacing – your home's smoke alarms?
While smoke alarm lifespan and sensing technology has vastly improved in recent years, the fact remains that all smoke alarms expire after 10 years. However, nearly a quarter of Americans (23 percent) have either never replaced their smoke alarms – or have not done so in more than six years. This, coupled with the fact that three out of five home fire deaths occur in properties without working smoke alarms – often due to missing alarm batteries or expired alarms – is cause for concern for local fire and safety officials.
"Many people assume that because they have smoke alarms in their homes, they're automatically protected in the event of a fire," said Lorraine Carli, vice president of Outreach and Advocacy at NFPA. "In reality, smoke alarms need to be installed, maintained and tested regularly to ensure that they're working properly. Part of that effort includes knowing how old your smoke alarms are, because smoke alarms don't last forever."
NFPA 72, National Signaling and Fire Alarm Code®, requires that residential smoke alarms be replaced at least every 10 years, but because the public is generally unaware of this requirement, many homes may have smoke alarms well past their expiration dates. To find out whether it's time to replace the smoke alarms in your home, simply look on the back of the alarms where the date of manufacture is marked. The smoke alarm should be replaced 10 years from that date (not the date of purchase or installation).
If alarms are due for replacement, consider upgrading your level of protection with devices containing 10-year sealed batteries, which offer tamper-proof, hassle-free protection while eliminating the need to replace batteries for the life of the alarms. For ultimate home safety, select combination smoke/carbon monoxide (CO) alarm models for complete protection from the threats of smoke and CO. A variety of smoke alarms, including hardwired, combination and 10-year battery-powered models, are available to meet specific needs and local